'Eyes on the future' with the EU Year of Skills (Spoorcongres '23)
Yesterday's annual Rail Congress (Spoorcongres), themed 'Eyes on the Future,' focused on attracting new talent and developing associated skills in the rail freight sector. Marleen van de Kerkhof, board member of Rail Cargo Information Netherlands, and Matthew Harteveld, Rail Talent 2022, explained how the sector aims to involve and inform young people about opportunities within the rail freight sector. Digitalisation and cross-border cooperation, among other things, are what makes the industry challenging for the new generation, according to Harteveld.  During the congress, Melvin de Kok, Chairman of JLN, highlighted the declining student intake on logistics universities and called for a sector-wide effort to promote opportunities in the industry.
To address this challenge, Rail Cargo Information Netherlands and The Future is Ours have adopted the EU Year of Skills '23 to promote working in the rail sector and improve the image of international rail freight transport. This initiative was pre-launched earlier this year at the European Railway Award in Brussels and will be officially launched on May 9 during TLM (Transport Logistic Munchen – stand B2 309/410) with the youth platform on behalf of Rail Cargo and The Future is Ours. This initiative will serve as a matchmaking platform for new talent and future employees of all levels. The platform encourages and facilitates the discovery of internships and traineeships with rail companies and promotes youth exchange across Europe. In doing so, we highlight the international character of rail transport and improve the bonding of students and young professionals with the industry.
Rail sector: excellent opportunity for the new generation to flourish and grow
Marleen van de Kerkhof emphasized that the rail freight sector provides an excellent opportunity for the new generation to flourish and grow, especially since it is an international business that many young people find appealing. To give substance to this initiative, we will actively connect with other associations such as Jong Logistiek Nederland and Jonge Veranderaars, as well as collaborate with educational institutions to promote the sector to more young people and students. For this purpose, Wietse Bruinsma, Marketing & Communications Manager at Rail Cargo highlighted the development of a new, interactive tool in partnership with EIC Mainport Rotterdam, allowing younger students to explore the benefits of rail transportation.
Rail Cargo and The Future is Ours have a comprehensive programme planned for the EU Year of Skills in 2023, including the following activities:
31-1-2023             Pre-launch EU Year of Skills during European Rail Award
7-3-2023               Logistics day with industry talents: Isa Obdeijn & Loek Berden
April 2023            Round table recruitment campaign Rail sector
9-5-2023              Official Launch EU Year of Skills – during TLM
23-6-2023            Event Jonge Veranderaars i.c.w. Bertschi and ProRail
6-7-2023              Rail Café at EIC Mainport Rotterdam
1,2,3-9-2023        World Port Days
15/16-9-2023      Rail Days
21-9-2023            Rail Cargo Awards
Autumn 2023      Event The Future is ours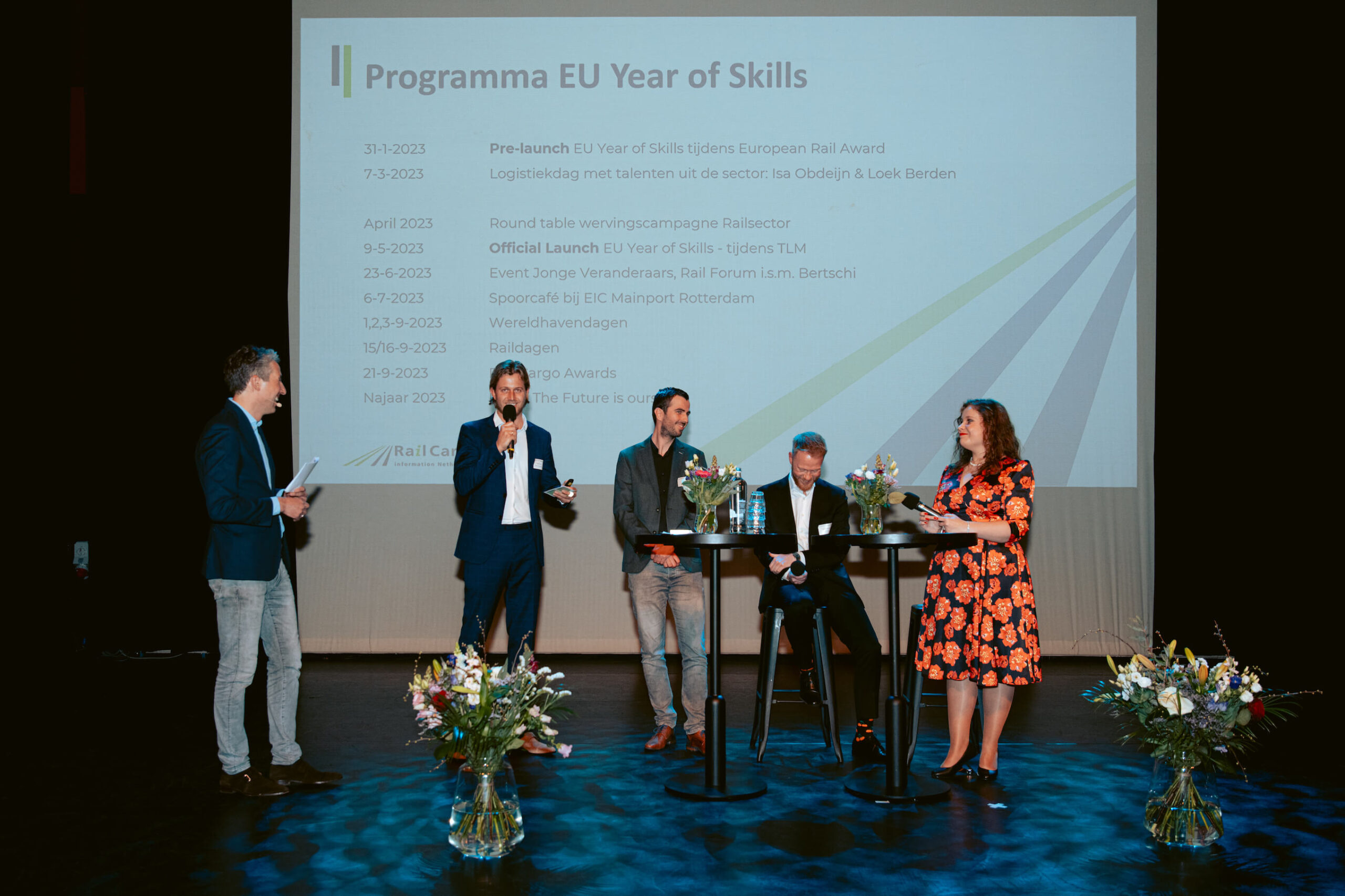 Op de hoogte blijven?
Meld je aan voor de nieuwsbrief
Neem contact op
Heb je vragen over het initiatief Rail Freight, The Future is Ours? Wil je ambassadeur worden? Of overweeg je om goederen per spoor te vervoeren? Neem dan contact met ons op. Laat een bericht met jouw gegevens achter en we nemen binnen 2 werkdagen contact met je op.